TIFF is the largest film festival in Asia, where filmmakers, buyers and journalists gather from around the world.
However, TIFF is not a rigidly formal festival, whoever loves films can visit.
Let us introduce the way to enjoy TIFF to the fullest, even if you have never visited TIFF before.

It isn't a familiar red carpet that decorates the opening event of the Tokyo International Film Festival, but it is a bright green carpet.
Green Carpet is made from recycled materials and is said to be the icon of Tokyo International Film Festival which sets "Ecology" as its theme.
On the Opening Day, beautifully dressed actors, actresses and directors will walk down from Roppongi Keyakizaka Dori to the Opening Ceremony venue.
Please look forward to finding out who will appear at the Green Carpet to add colorfulness to glamorous ceremony.


Opening Event
Green Carpet
October, 22 (Sat)
13:30 (subject to change)
Venue: Roppongi Keyakizaka Dori 
and Roppongi Hills Arena
*Admission Free
*The event will be held whether it rains or shines.
(The venue may be subject to change)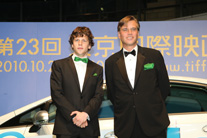 During the Tokyo International Film Festival, films chosen from all over the world will be screened unsparingly from morning to late at night.
A feature of screenings at TIFF is that actors and directors will be appearing on stage to interact with movie fans in many sessions.
Especially at a Q&A, you will have an unforgettable experience by directly asking the questions and telling comments of the film you have just seen. Directors and actors will also be looking forward to spend time with the audiences. You are free to express your impressions and ask questions.
There is still a chance to see celebrities even if you could not obtain a ticket that you wanted. You may see them at the outdoor events held in Roppongi Hills Arena or at press conference in TIFF movie café. Experience of encountering with gorgeous guests would make you love the movies even more.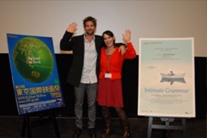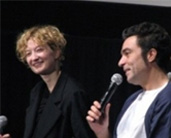 Without a doubt, the biggest attraction of TIFF is the very film itself. A number of films from across the world had been carefully chosen by programming directors and the film specialists, for each section.
We received 975 entries this year, which is well over than 100 compared with last year's competition section entries. 15 films which had been chosen by programming directors will be screened in the competition section.
These films were chosen after many screenings and arguments, with careful consideration of qualities, news hooks, the balance of themes, and the diversity of regions.
Not only the competition section, but also every section has the amazing line-up. TIFF offers you a fresh movie experience which is different from the ones you can get from general release.
Also, many films will be screened as world premiere, international premiere, and Asian premiere. It is another feature of TIFF that you can see new films before they open to the public.
127 programs are looking forward to meeting you. We are sure that you will find your own favorite film at TIFF!!



There are 127 programs screened at Tokyo International Films this year. It's not that easy to remember all the programs you were interested in. When you click Add to "Favorite Film" on upper right of programs page in our official web site, the photo of the program will be displayed in the list.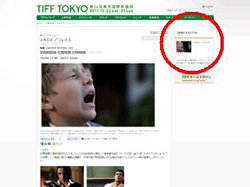 Open the schedule page and you'll find the check by the program you've added as your favorite. Use the Add to "Favorite programs" and try to take every opportunity to see all the programs of your interest!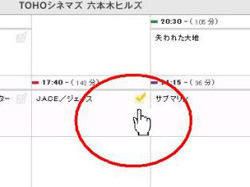 All tickets have the assigned seat numbered for each respected screening session. By clicking the ticket button


in each film page, you can access to the ticketing information of the advance ticket and can purchase it online. For more information about tickets, please refer to "Ticketing" page on our website.
A key to the film selection is to follow your first impression of photos and trailers. You should be able to find an inspiring film.
Ticket Pia and Lawson Ticket websites have feature pages on Tokyo International Film Festival.
We will see you at the film festival!!





Live image of Stage Greeting and latest Film Festival information will be delivered at the Mobile site. Please take advantage of it between the screenings.
Mobile Phone Site (Japanese)


TIFF BOYS will bring excitement to Tokyo International Film Festival this year.
They will introduce shops at Roppongi in Lifestyle Magazine 'Time Out of Tokyo' and will be the guest in the special program of Movie Plus. Needless to say, they will make the appearance at Opening Green Carpet! They may show up at the Q&A after the screening as well!? This is the chance to meet "Ikemen" (handsome) TIFF BOYS during the film festival!
The detailed information on their appearances will be announced as needed on the website. Note the progress of the TIFF BOYS!!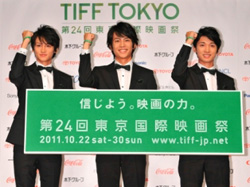 The TIFF Facebook introduces the film festival from various angles such as small but important works at the film festival or little enjoyment that the Festival staff has found. Staff may ask questions such what film festival means to you or what your favorite movie is. Please feel free to make a comment.
Tokyo International Film Festival Face Book Offical Fan Page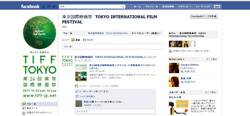 We will tweet about the green carpet and the award ceremony, and announce up-to-date information again this year. The hashtag for TIFF is #TIFF_TOKYO. We are also expecting that twitter become a place for visitors to communicate with each other.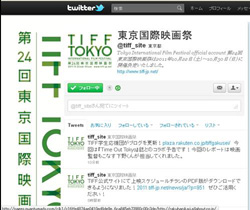 We offer special programs for students this year, becauswe we would like to young people to enjoy TIFF. At first, we are announcing a dreamy program for students that they can buy a day-of-performance ticket for \500. It might be nice to come to the movie theater and choose a movie by inspiration. Also, TIFF student supporters will participate in various events, and report about it on their blog. We would like you to see many films and enjoy encounteres with them.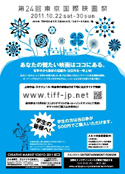 We will have Minato Screening again, which can be enjoyed by from children to adults, and families. We offer a great experience of Live Cinema Screening, the event which voice actors do a simultaneous voice-over in the open air. Children will be absolutely delighted about the realistic sensation! Please enjoy films with your family.
October, 29 (Sat) admission free, no reservation needed
Venue: Roppongi Hills Arena
Screen time: 15:30 start (this event will be carried out in case of light rain, but canceled in case of heavy rain)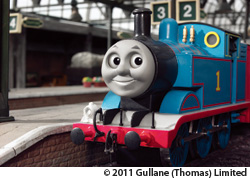 The moving image of the green carpet will be also shown at the annual photo gallery. If you missed the green carpet, please come to O-YANE Plaza and enjoy the atmosphere!! You can find a big objet made with Coca-Cola zero, TOYOTA's new car, and the exhibit of reconstruction support activities by KINOSHITA group. The green carpet will be laid here, so you can walk on it and have a feeling like a star. This is the place for taking pictures! Please come by between screenings.



We are putting up props and original goods from movies which will be screened at TIFF for auction this yeat as well. The items will be seen from October, 11 (Tue) on the auction site.(New items will be updated on the website) The bedding will start on October, 16 (Sun), at 12 p.m.!! (The auction is supposed to end on October, 30, around 12 p.m.) All proceeds will be donated to Green Tokyo Fundraising Campaign, Kinoshita Forest, Lawson Green Fund, and Cinema Yell Tohoku. There might be items which is usually hard to get. We are looking forward to your participation!!

From this year, we also announce information of TIFF on mixi.
TIFF mixi page (Japanese only)