2011.10.27
[Event Reports]
"But the dancers didn't stop dancing," 3D and Spirits of Dance lights fire to motivate Wim Wenders – Oct. 25 (Tue) Special Screenings- Pina – Stage Greeting
Pina was screened on Oct. 25 (Tue), The Director of Wings of Desire and Buena Vista Social Club made his stage appearance.
Pina depicts the world of a genius choreographer, Pina Bausch, who is known for her continuous mesmerizing of the world after taking away the wall between the theatrical art and dance performance. Pina's old friend, Wim Wenders created this as a first art film to be made in to 3D.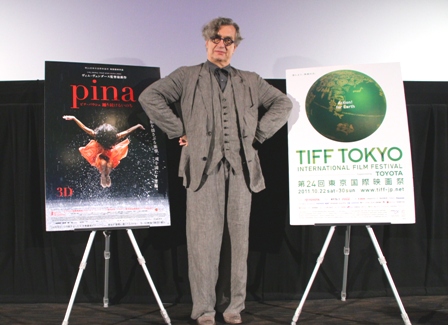 ©2011 TIFF
I met her work in 1985 and thought that "There wasn't anything more beautiful." My life changed over night. "Why did I want to film this?" There wasn't really a reason why, but I've wanted to make this film for a long time. Let me take you all to the small town in Germany…where Pina worked for 40 years," said Wenders. The following morning he actually met Pina and told her that "I want you to let me make the film of your work.."
Every time we met she enthusiastically said, "Let's us make the film." But I was tormented trying to think of the way to make her world of dance into a film. I watched almost all the films on dance, hoping to find a clue to cinemize it, but 20 long years passed by without any answers.
That was when I met the "State of Art Digital 3D Movie, U23D." This is the answer! I could capture the dance along with the space around the subject in the film. I
called Pina immediately.
Wenders and Pina began to make a thorough preparations in the next 2 years, but just when the filming was about to commence, Pina passed away. The news of her death was such a shock, "No body was prepared for that." said Wenders. He revealed the tremendous sense of loss by telling "I gave up on making this film. But the dancers didn't stop dancing." I owe a lot to the dancers for completion of this film.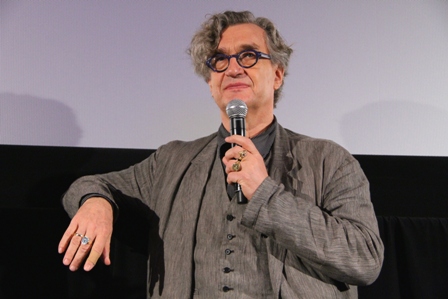 ©2011 TIFF
Wim Wenders had one another purpose for the visit. He was going to keep a promise with the people related to the film theaters in Tohoku area which were damaged by the earth quake disaster that occurred on March 11. The following is the message he made the promise.
As a director who learned much from the master film makers of Japan, and also as the enthusiastic Japanese film fan and as one friend, I have been overwhelmed by the misfortune that struck Japan.
Like many others, I watched the television helplessly and asked myself what I could do. There must be strength in the film to heal! I promised the people of the theaters in Tohoku and Kanto area that I would be there as early as possible and show the film (free of charge) and talk with the audiences of the local region. I will keep you in my mind until that day.
Wim Wenders.