2012.05.15
[Updates]
UNIJAPAN's Co-production Certificated Film "Like Someone In Love", Directed by Abbas Kiarostami, Selected for the Official Competition Line-up at the 65th Cannes Film Festival
The UNIJAPAN* co-production certificated film, "Like Someone In Love", directed by Abbas Kiarostami, has been selected for screening in the official competition line-up at the 65th Cannes Film Festival (May 16-27, 2012). UNIJAPAN's Co-production Certification Program was launched in 2011, with the support of the Ministry of Economy, Trade and Industry (METI) and the Agency for Cultural Affairs of Japan.

Out of the 13 projects certificated by UNIJAPAN, 11 projects applied for the Agency for Cultural Affairs Co-production Subsidy. Five projects, including "Like Someone In Love", were selected for support.

UNIJAPAN/Tokyo International Film Festival extend our sincere congratulations for the film's participation in the official competition of the Cannes Film Festival. We will continue to support Japanese filmmakers who hope to work on international co-production projects (live/animation) by developing better production schemes.

*UNIJAPAN is the host organization of the Tokyo International Film Festival.
UNIJAPAN official website:
unijapan.org
Tokyo International Film Festival:
www.tiff-jp.net

"Like Someone in Love"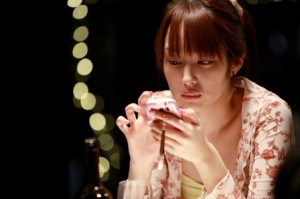 ©mk2/Eurospace
2012 / 109mins. / Japanese-French Co-production
Director & Screenplay: Abbas Kiarostami  
Cast: Tadashi Okuno, Rin Takanashi, Ryo Kase
Production Companies: Eurospace, mk2  
Official screening date at Cannes Film Festival: May 21, 2012
Synopsis: Japan, 2011. Akiko, a pretty young student, sells her body to help pay for her studies. But then she comes across a very unusual client: a learned old scholar who shows her great kindness. An extraordinary relationship develops between her and the old man.

●UNIJAPAN Co-production Certification Program (UNIJAPAN Certificate)
UNIJAPAN's Co-production Certification Program was launched in 2011 to promote and support the international endeavors of Japanese filmmakers, in association with the promotion of international co-productions supported by the Ministry of Economy, Trade and Industry (METI) and other affiliated organizations.

UNIJAPAN evaluates international co-production projects with Japanese participation to determine whether they 1) allow Japanese producers to access the overseas market, and 2) contribute to globalization of the industry and the enrichment of culture through cultural and personnel exchange.

The Agency for Cultural Affairs Co-production Subsidy has adopted the UNIJAPAN Certificate as a mandatory requirement. Therefore, producers seeking to apply for its Co-production Subsidy must first apply to and obtain the UNIJAPAN Certificate.
UNIJAPAN official website:
2012 UNIJAPAN Co-Production Certification Application Guidelines (PDF)

●The Japan Co-production Subsidy
Over the years, "Support for Film Productions" (Cultural and Arts Promotion Subsidy) has been available for Japanese productions. The Agency for Cultural Affairs newly established its Co-production Subsidy in 2011. For further information, please refer to the Agency for Cultural Affairs link below.
Official website (in Japanese Only):
http://www.bunka.go.jp/geijutsu_bunka/03eiga_sien/index.html