2012.02.24
[Updates]
Relaying comments of various guests from the 24th TIFF. (Part6)
Relaying comments of various guests from the 24th TIFF. (Part6)

24th TIFF International Competition Jury
Special Presentation – Overcoming the Disaster Women on the Edge
Director
Masahiro Kobayashi

Q: How do you feel about participating in TIFF? I understand that you have participated in this years TIFF as a juror.

Masahiro Kobayashi: I am participating in TIFF as a director and screening two films as special presentation selections this year. I was also a juror for the Winds of Asia in the past. Tokyo International Film Festival helped me heighten my career and I strongly felt that I had to respond to their kindness when I was chosen for the jury.

Q: Was it difficult to judge the film?

Masahiro Kobayashi: It wasn't that difficult. There were two producers in the jury and essentially producers are known to have different perspectives compared to the directors. But I was surprised when the chairman of the jury made an enthusiastic recommendation of an artistic film such as Play.
Since I am a film maker and a director, I believe that it is our purpose to discover the new talented film directors and give awards to such individuals. The act becomes the encouragement for the film festival including myself. I think that is a very important matter.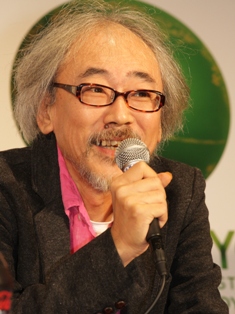 ©2011 TIFF
24th TIFF International Competition Jury
Film Director:
Masahiro Kobayashi

October 30th (Sunday) 2011, The 24th Tokyo International Film Festival Award Winners Press Conference
October 23rd (Sunday) 2011, The International Competition Juries had a Press Conference

Women on the Edge


Relaying comments:
Part12 "U.F.O." Director:Kong Quee-hyun, Actor:Park Sang-hyuk, Actor:Kim Chang-hwan
Part11 "A Song I Remember" Director:Kyoshi Sugita
Part10 "J.A.C.E." Director:Menelaos Karamaghiolis, Actor:Alban Ukaj, Actor:Kevis Pachos
Part9 "Mourning" Director:Morteza Farshbaf, Producer/Screenplay/Production Designer (art direction):Shadmehr Rastin
Part8 "The Woodsman and the Rain"Director: Shuichi Okita
Part7 "When Pigs Have Wings"Director: Sylvain Estibal
Part6 24th TIFF International Competition Jury: Masahiro Kobayashi
Part5 "Exhalation" Director: Edmund Yeo
Part4 Actress, Producer: Sugino Kiki
Part3 Winds of Asia Middle-East Jury: Koji Fukada
Part2 "The Mirror Never Lies" Director:Kamila Andini
Part1 "ABOUT THE PINK SKY" Director:Keiichi Kobayashi