2012.03.02
[Updates]
Relaying comments of various guests from the 24th TIFF. (Part7)
Relaying comments of various guests from the 24th TIFF. (Part7)

Competition section:
When Pigs Have Wings Director,
Sylvain Estibal
24th TIFF The Audience Award Winner
37th CÉCAR AWARD Best First Film(Meilleur Premier Film) Winner


Q: How do you feel about participating in TIFF?

Sylvain Estibal: It was the first festival that selected our movie and that was a real nice surprise. When I told our main actor, Sasson Gabay who played Jaffer with a pig, he said, "Oh it's wonderful," because TIFF was a very familiar festival. But he couldn't make it here because he was performing in the theater in Israel.

He told me to go to the festival because he thought TIFF was a very special film festival. The people here were very nice and it was nice to be here. The film festival has a very good atmosphere and creates a really good relationship between the film maker and the audience. I really felt very close to the audience.

Q: I heard that many people wanted to ask you questions at the Q & A session.

Sylvain Estibal: It was very nice. It was a very touching experience for us. Lots of people were in the big theater when we got there. They were waiting for us with the questions. It was an amazing experience and we were truly touched by the atmosphere.

We even cried at the ceremony because we didn't think that the people here would find our film interesting. We were very surprised that we were selected because our film was from the middle-east. We now feel that in a way our film is very universal.

We also really appreciated the volunteers. Everything was well organized and there were always a smile in their faces. It was unbelievable!

Q: We made the TIFF slogan for this year as "Believe the Power of Film". Do you have any specific episodes for feeling the power of the film?

Sylvain Estibal: Well, I think that the movies cannot really change the reality. But movies can give hope and hope is what is necessary to change the reality.

We are working on something which is artistic and at the same time very important. For people who suffered so much in the disaster, it is good to become a part of the festival and to see the movies and feel the hope.

I think that this year's selection has lots of movies that will bring hope to the audience. I think that it is very important because we can bring the feeling of hope to the people that would lead to the future. It is surprising that you have organized such a film festival only few months after the disaster.

I also thought that you had a very original vision for the film selections at your film festival. The reason for that is because my film wasn't selected at any other places and you are the first to select my film. That is why we were very surprised. I felt that you were not so involved in the politics like some other festivals. I think you have a fresh vision towards the films. Your festival is truly useful for all the film makers because it is good to have a place where we can have our films judged. The big festivals are bit complicated. On other hand, yours is very family like. I felt that your fresh perspectives were good because you select the film from all around the world and show it to the audiences. Now we have more chances to have our films seen by the Japanese Audiences. That is very important for us.

Many people told us that our film gives hope to people.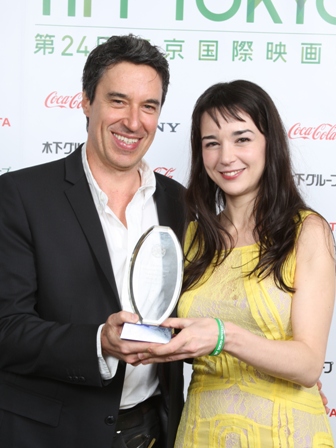 ©2011 TIFF
"When Pigs Have Wings"Director: Sylvain Estibal(left), Actress:Myriam Tekaїa(right)


"When Pigs Have Wings"

Official Interview
The 24th TIFF Award Winners Press Conference


Relaying comments:
Part12 "U.F.O." Director:Kong Quee-hyun, Actor:Park Sang-hyuk, Actor:Kim Chang-hwan
Part11 "A Song I Remember" Director:Kyoshi Sugita
Part10 "J.A.C.E." Director:Menelaos Karamaghiolis, Actor:Alban Ukaj, Actor:Kevis Pachos
Part9 "Mourning" Director:Morteza Farshbaf, Producer/Screenplay/Production Designer (art direction):Shadmehr Rastin
Part8 "The Woodsman and the Rain"Director: Shuichi Okita
Part7 "When Pigs Have Wings"Director: Sylvain Estibal
Part6 24th TIFF International Competition Jury: Masahiro Kobayashi
Part5 "Exhalation" Director: Edmund Yeo
Part4 Actress, Producer: Sugino Kiki
Part3 Winds of Asia Middle-East Jury: Koji Fukada
Part2 "The Mirror Never Lies" Director:Kamila Andini
Part1 "ABOUT THE PINK SKY" Director:Keiichi Kobayashi