2012.05.18
[Updates]
Relaying comments from the 24th TIFF. (Part17)
Relaying comments from the 24th TIFF. (Part17)

Tokyo International Film Festival (TIFF & TIFFCOM)
Chairman
Tom Yoda


Q: Looking back the 24th TIFF, how do you feel as a chairman? Also,please tell us your ambitions for the 25th TIFF.

Tom Yoda (Chairman): Under the slogan of "Believe! The power of Films", the 24th TIFF offered a variety of exciting premiere films.
Through the power of films, interactive exchanges, and information dissemination, we hope to make the TIFF a world-class event.

I think that the power of films is an enthusiasm or a belief that a person has.
That is why we must keep on thinking that we would definitely succeed again this year.

What is important to bring the 25th TIFF to a successful conclusion?
I would say it is films, especially films which reflect the film maker's intentions strongly.
Also, since there is a great team spirit in TIFF, I am sure that the 25th TIFF will succeed.

The 25th anniversary will commerce from the very next morning after the 24th TIFF.
Let us keep on believing the power of films and the power of each one of us.

The Power of Films, NOW!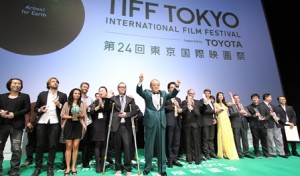 ©2011 TIFF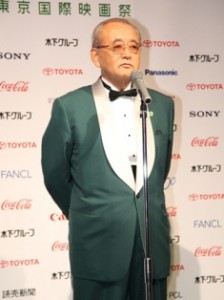 ©2011 TIFF


Relaying comments:
Part16 "Play" Actress:Ruben Östlund
Part15 "When Pigs Have Wings" Actress:Myriam Tekaїa
Part14 "ABOUT THE PINK SKY" Actor:Tsubasa Takayama
Part13 "Kurosawa's Way" Director:Catherine Cadou
Part12 "U.F.O." Director:Kong Quee-hyun, Actor:Park Sang-hyuk, Actor:Kim Chang-hwan
Part11 "A Song I Remember" Director:Kyoshi Sugita
Part10 "J.A.C.E." Director:Menelaos Karamaghiolis, Actor:Alban Ukaj, Actor:Kevis Pachos
Part9 "Mourning" Director:Morteza Farshbaf, Producer/Screenplay/Production Designer (art direction):Shadmehr Rastin
Part8 "The Woodsman and the Rain"Director: Shuichi Okita
Part7 "When Pigs Have Wings"Director: Sylvain Estibal
Part6 24th TIFF International Competition Jury: Masahiro Kobayashi
Part5 "Exhalation" Director: Edmund Yeo
Part4 Actress, Producer: Sugino Kiki
Part3 Winds of Asia Middle-East Jury: Koji Fukada
Part2 "The Mirror Never Lies" Director:Kamila Andini
Part1 "ABOUT THE PINK SKY" Director:Keiichi Kobayashi