2012.04.13
[Updates]
Relaying comments of various guests from the 24th TIFF. (Part13)
Relaying comments of various guests from the 24th TIFF. (Part13)

Special Presentation ? Homage to Maestro:
Kurosawa's Way
Director, Catherine Cadou


Q: How do you feel about participating in TIFF?

Catherine Cadou (Director): The manner in which TIFF invites the guests cordially with a feeling of hospitality is wonderful and I liked it very much. I know lots of other film festivals but I felt the special enthusiasm with the way of the TIFF.

Q: We made the TIFF slogan for this year as "Believe the Power of Film". Do you have any specific episodes for feeling the power of the film?

Catherine Cadou (Director): I really thought that slogan which Chairman Yoda chose, "Believe the power of film" was very good. I liked it very much. It sounded brilliant and gave me the power as well.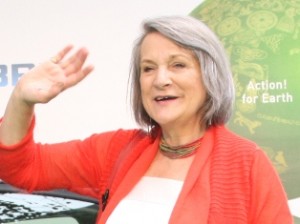 ©2011 TIFF
Director, Catherine Cadou


Relaying comments:
Part12 "U.F.O." Director:Kong Quee-hyun, Actor:Park Sang-hyuk, Actor:Kim Chang-hwan
Part11 "A Song I Remember" Director:Kyoshi Sugita
Part10 "J.A.C.E." Director:Menelaos Karamaghiolis, Actor:Alban Ukaj, Actor:Kevis Pachos
Part9 "Mourning" Director:Morteza Farshbaf, Producer/Screenplay/Production Designer (art direction):Shadmehr Rastin
Part8 "The Woodsman and the Rain"Director: Shuichi Okita
Part7 "When Pigs Have Wings"Director: Sylvain Estibal
Part6 24th TIFF International Competition Jury: Masahiro Kobayashi
Part5 "Exhalation" Director: Edmund Yeo
Part4 Actress, Producer: Sugino Kiki
Part3 Winds of Asia Middle-East Jury: Koji Fukada
Part2 "The Mirror Never Lies" Director:Kamila Andini
Part1 "ABOUT THE PINK SKY" Director:Keiichi Kobayashi