2012.02.10
[Updates]
Relaying comments of various guests from the 24th TIFF. (Part4)
Relaying comments of various guests from the 24th TIFF. (Part4)

Winds of Asia Middle-East Sugino Kiki Muse of the Asian Indies,
Actress, Producer Sugino Kiki

Q: How do you feel about participating in TIFF which had special feature screenings of your film?

Kiki Sugino: When I was consulted with the featured screening for the first time, I wondered whether it was going to be alright. But as we continued with the screening and when I had a chance to see the faces of the audiences who came to see the films and as we proceeded with the Q&A I truly realized that the art of film is completed only after it is appreciated by the audience.
Although my experience as an actress is still limited, I felt the need to continue devoting myself to my work even more and improve my attitude spiritually as a token of my appreciation for having my films featured at the film festival.

Q: We made the TIFF slogan for this year as "Believe the Power of Film". Do you have any specific episodes for feeling the power of the film?

Kiki Sugino: I believe that the film has a power to change people's life, even if it's only a slight change. There was a huge incident and the aftermath of the disaster still continues. I believe that we should have a global and broader perspective on film making rather than just think about the film production in domestic terms, I strongly feel this way, especially after the earth quake.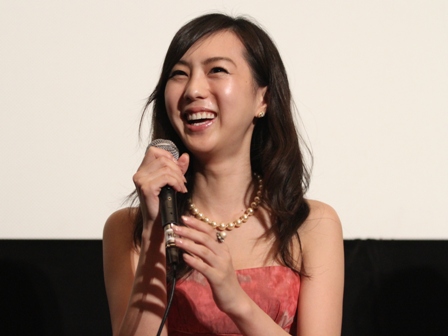 ©2011 TIFF
Ms.Kiki Sugino

Winds of Asia-Middle East – SUGINO Kiki: Muse of the Asian Indie Cinema


Relaying comments:
Part12 "U.F.O." Director:Kong Quee-hyun, Actor:Park Sang-hyuk, Actor:Kim Chang-hwan
Part11 "A Song I Remember" Director:Kyoshi Sugita
Part10 "J.A.C.E." Director:Menelaos Karamaghiolis, Actor:Alban Ukaj, Actor:Kevis Pachos
Part9 "Mourning" Director:Morteza Farshbaf, Producer/Screenplay/Production Designer (art direction):Shadmehr Rastin
Part8 "The Woodsman and the Rain"Director: Shuichi Okita
Part7 "When Pigs Have Wings"Director: Sylvain Estibal
Part6 24th TIFF International Competition Jury: Masahiro Kobayashi
Part5 "Exhalation" Director: Edmund Yeo
Part4 Actress, Producer: Sugino Kiki
Part3 Winds of Asia Middle-East Jury: Koji Fukada
Part2 "The Mirror Never Lies" Director:Kamila Andini
Part1 "ABOUT THE PINK SKY" Director:Keiichi Kobayashi