2012.01.19
[Updates]
Relaying comments of various guests from the 24th TIFF.
Relaying comments of various guests from the 24th TIFF. (Part1)


Q: How do you feel about participating in TIFF?

Keiichi Kobayashi: It was my first participation and also a first time to see TIFF. That was why I learned that lots of people who really liked the film gathered at the film festival. There were very positive ambiences present at the festival and it felt very pleasant.

Q: We made the TIFF slogan for this year as "Believe the Power of Film". Do you have any specific episode for feeling the power of the film?

Keiichi Kobayashi: When I was a small child, my adoration of power was with Jackie Chan. Because Jackie Chan played the role that combined smile and the strength, my ideal sense of power was with a cheerful and strong character. It was about in high school year when I started to like Tom Cruise. Because I learned and matured by watching the films, I think that the film has an immense power of influence.

Q: Did you have a chance to talk with Jackie Chan?

Keiichi Kobayashi: I couldn't at all. That is because my film was shown on the first day as well as his, and that is why we didn't even pass by each other. It was really unfortunate but maybe I was meant to miss him this time. If I move up with my career, our meeting will happen inevitably.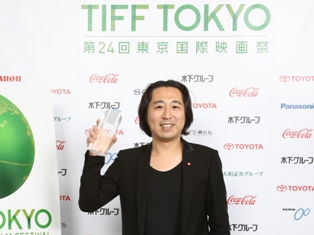 ©2011 TIFF
"ABOUT THE PINK SKY" Director:Keiichi Kobayashi


"ABOUT THE PINK SKY"

"ABOUT THE PINK SKY" Official Selection at the 2012 Sundance Film Festival
【TIFF Official Interview】Director:Keiichi Kobayashi
The 24th TIFF Award Winners Press Conference


Relaying comments:
Part12 "U.F.O." Director:Kong Quee-hyun, Actor:Park Sang-hyuk, Actor:Kim Chang-hwan
Part11 "A Song I Remember" Director:Kyoshi Sugita
Part10 "J.A.C.E." Director:Menelaos Karamaghiolis, Actor:Alban Ukaj, Actor:Kevis Pachos
Part9 "Mourning" Director:Morteza Farshbaf, Producer/Screenplay/Production Designer (art direction):Shadmehr Rastin
Part8 "The Woodsman and the Rain"Director: Shuichi Okita
Part7 "When Pigs Have Wings"Director: Sylvain Estibal
Part6 24th TIFF International Competition Jury: Masahiro Kobayashi
Part5 "Exhalation" Director: Edmund Yeo
Part4 Actress, Producer: Sugino Kiki
Part3 Winds of Asia Middle-East Jury: Koji Fukada
Part2 "The Mirror Never Lies" Director:Kamila Andini
Part1 "ABOUT THE PINK SKY" Director:Keiichi Kobayashi