2012.01.26
[Updates]
Relaying comments of various guests from the 24th TIFF. (Part2)
Relaying comments of various guests from the 24th TIFF. (Part2)

Winds of Asia Middle-East – Film Panorama of Asia Middle-East
The Mirror Never Lies
Director:Kamila Andini

Q: How do you feel about participating in TIFF?

Kamila Andini (Director):It was a big pleasure to come here because Japan was one of the destinations that I always wanted to go and Tokyo International Film Festival was the film festival that I really liked to be at. That is because my father is a director(*Director: Garin Nugroho) and had won the award twice in the past at TIFF. Coming here was actually like returning to the family for me. Screening my film where the whole city supported the event gave me a lot of energy. For example, watching people who were really were into the cinema gave me a strength to make more films.

Q: We made the TIFF slogan for this year as "Believe the Power of Film". Do you have any specific episodes for feeling the power of the film?

Kamila Andini:I really like this year's slogan of "Believe the power of film" .That is actually what I do because my movie is about the minority tribes who live in Indonesia. I use the power of film to tell the people their story. Not very many people knew about this community but with the power of films, lots of people know about them now and are concerned about their lives. I love this motto and feel that it is important for every film makers and also to Japan which suffered the disaster recently. We are the film makers and we must do something about it.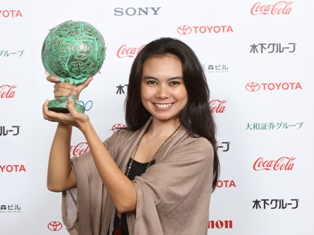 ©2011 TIFF
"The Mirror Never Lies" Director:Kamila Andini

"The Mirror Never Lies"

The 24th TIFF Award Winners Press Conference


Relaying comments:
Part12 "U.F.O." Director:Kong Quee-hyun, Actor:Park Sang-hyuk, Actor:Kim Chang-hwan
Part11 "A Song I Remember" Director:Kyoshi Sugita
Part10 "J.A.C.E." Director:Menelaos Karamaghiolis, Actor:Alban Ukaj, Actor:Kevis Pachos
Part9 "Mourning" Director:Morteza Farshbaf, Producer/Screenplay/Production Designer (art direction):Shadmehr Rastin
Part8 "The Woodsman and the Rain"Director: Shuichi Okita
Part7 "When Pigs Have Wings"Director: Sylvain Estibal
Part6 24th TIFF International Competition Jury: Masahiro Kobayashi
Part5 "Exhalation" Director: Edmund Yeo
Part4 Actress, Producer: Sugino Kiki
Part3 Winds of Asia Middle-East Jury: Koji Fukada
Part2 "The Mirror Never Lies" Director:Kamila Andini
Part1 "ABOUT THE PINK SKY" Director:Keiichi Kobayashi