2012.04.27
[Updates]
Relaying comments of various guests from the 24th TIFF. (Part15)
Relaying comments of various guests from the 24th TIFF. (Part15)

Competition section:
When Pigs Have Wings
Actress, Myriam Tekaїa
24th TIFF The Audience Award Winner


Q: How do you feel about participating in TIFF?

Myriam Tekaїa (Actress): I am in the clouds. I think it is going to be difficult for me to leave Japan. I want to keep in contact with everybody and I thought that the people here were generous and had good tastes. I feel that they have interests in various kinds of cinema. The public is very open and have seen very many movies. They are very cultured in cinema and world cinema as well. I was very impressed by that. They have the great memory of names and the conversation with them is very interesting. I was really amazed. And to tell you the truth, I find Japan and the people of Japan to be very courageous to do the film festival in such generous ways after the disaster. I think this will be a lesson for the whole world to keep things going and also a great example of generosity and optimism.

Q: Is it your first time to come to Japan?

Myriam Tekaїa: Yes it is my first time. It was a dream for me to come to Japan because it was a far away land. When I was young, people told me all the time that I looked a little bit like Japanese. I grew up always thinking that there was link between me and Japan. When I was small, people told me, "Tekaїa, maybe it's from Japan." And to come to Japan in this kind of circumstance is really a dream come true.

We are so happy to have you here.

Thank you so much. You can't imagine how strong of a memory this will be for us. This is a very strong moment for us.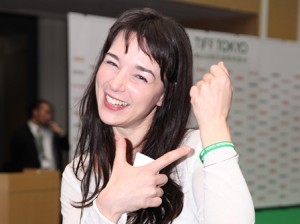 ©2011 TIFF
"When Pigs Have Wings"Actress: Myriam Tekaїa


"When Pigs Have Wings"

Relaying comments Part7:"When Pigs Have Wings"Director: Sylvain Estibal
Official Interview
The 24th TIFF Award Winners Press Conference


Relaying comments:
Part14 "ABOUT THE PINK SKY" Actor:Tsubasa Takayama
Part13 "Kurosawa's Way" Director:Catherine Cadou
Part12 "U.F.O." Director:Kong Quee-hyun, Actor:Park Sang-hyuk, Actor:Kim Chang-hwan
Part11 "A Song I Remember" Director:Kyoshi Sugita
Part10 "J.A.C.E." Director:Menelaos Karamaghiolis, Actor:Alban Ukaj, Actor:Kevis Pachos
Part9 "Mourning" Director:Morteza Farshbaf, Producer/Screenplay/Production Designer (art direction):Shadmehr Rastin
Part8 "The Woodsman and the Rain"Director: Shuichi Okita
Part7 "When Pigs Have Wings"Director: Sylvain Estibal
Part6 24th TIFF International Competition Jury: Masahiro Kobayashi
Part5 "Exhalation" Director: Edmund Yeo
Part4 Actress, Producer: Sugino Kiki
Part3 Winds of Asia Middle-East Jury: Koji Fukada
Part2 "The Mirror Never Lies" Director:Kamila Andini
Part1 "ABOUT THE PINK SKY" Director:Keiichi Kobayashi