2012.05.11
[Updates]
Relaying comments of various guests from the 24th TIFF. (Part16)
Relaying comments of various guests from the 24th TIFF. (Part16)

Competition section:
Play
Actress, Ruben Östlund
24th TIFF Best Director Winner


Q: How do you feel about participating in TIFF?

Ruben Östlund (Director): Of course, when you win a prize, your impression of the festival is on the highest level. Of course we love the festival.
I have seen some of the films in the competition section and also selected films in other festivals as well, and I found the selections of this festival to be a very good one. It has a kind of attitude that I haven't seen any where else before. For example, it has an attitude that approaches the festival with the public relations. So I am feeling very positive about it.

Q: We made the TIFF slogan for this year as "Believe the Power of Film". Do you have any specific episodes for feeling the power of the film?

Ruben Östlund (Director): Well, I think that the film or moving images is very powerful and could change the human behavior. I think that the expression that we make through the moving images are actually changing the way that we look at the world and also change the way we behave as well.

I have a good example, I heard that the writer, Roberto Sabiano, once said that, "Half a year after the Pulp Fiction was released in Italy, the young gangsters started to change the way they held the gun when they shot it. The consequence of this is that, they had to shoot lot more bullets to kill their enemies and the police had more mess to clean up. This is an example of how powerful the moving images could be. It changes the behavior of men.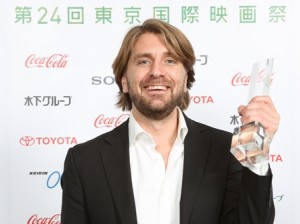 ©2011 TIFF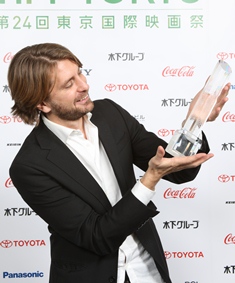 ©2011 TIFF


"Play"

The 24th TIFF Award Winners Press Conference


Relaying comments:
Part15 "When Pigs Have Wings" Actress:Myriam Tekaїa
Part14 "ABOUT THE PINK SKY" Actor:Tsubasa Takayama
Part13 "Kurosawa's Way" Director:Catherine Cadou
Part12 "U.F.O." Director:Kong Quee-hyun, Actor:Park Sang-hyuk, Actor:Kim Chang-hwan
Part11 "A Song I Remember" Director:Kyoshi Sugita
Part10 "J.A.C.E." Director:Menelaos Karamaghiolis, Actor:Alban Ukaj, Actor:Kevis Pachos
Part9 "Mourning" Director:Morteza Farshbaf, Producer/Screenplay/Production Designer (art direction):Shadmehr Rastin
Part8 "The Woodsman and the Rain"Director: Shuichi Okita
Part7 "When Pigs Have Wings"Director: Sylvain Estibal
Part6 24th TIFF International Competition Jury: Masahiro Kobayashi
Part5 "Exhalation" Director: Edmund Yeo
Part4 Actress, Producer: Sugino Kiki
Part3 Winds of Asia Middle-East Jury: Koji Fukada
Part2 "The Mirror Never Lies" Director:Kamila Andini
Part1 "ABOUT THE PINK SKY" Director:Keiichi Kobayashi