2011.10.30
[未分類]
Oct. 29 (Sat) Q & Competition, "Play" with Line Producer Marie Kjellson.
Q&A session featuring Play from the Competition section was held on Oct. 29 (Sat).
■ Date & Time
October 29th (Saturday), from 19:28 @TOHO Cinemas Roppongi Hills Screen 7
■ Appearance
Marie Kjellson (Line Producer)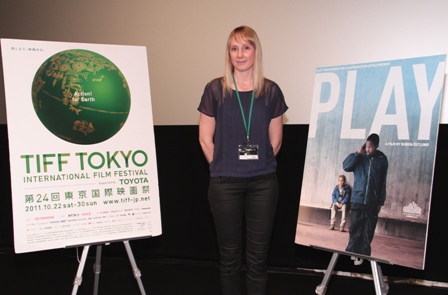 ©2011 TIFF
Q. What was your role in this film?
Marie Kjellson (MK): I am the line producer of this film and also the CEO of our company. I have worked with the director for seven years and this is his third feature film. I will do my best in answering your questions in the way that the director would have answered them.
I'd like to say a few words about the film and how it was brought up. Ruben Őstlund, the director, read an article three years ago about Gothenburg, where we come from. It was an article about five black boys from Somalia and they did a series of robberies, sixty times or more before they got caught. This article was very troubling for Ruben because of how they could rob so many times in broad daylight with many people around them. So he started investigating how this could have happened. Ruben interviewed the robbers, victims, the police and read all the files and documents about 13-year-old kids, and what he found was that they had used the 'image' society had of a black person; a robber and a threatening person. They saw that when they would go up to a white boy, he'd be scared of them so they used this image that society had given them.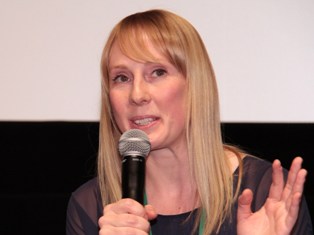 ©2011 TIFF
Q. I understand that discrimination and prejudice were conveyed through lines such as "it's your fault that you're showing off your mobile phone to us!". Yet, towards the end, there's that white woman who says, "I no longer can stand this". What did that mean?
MK: The most important thing with this film is that we don't want to give the answer to this problem. We want to show the many sides and nuances of this issue and to create a problem for the viewer to assess. So, it's the viewer's role to think about how they would react in such a situation and what their prejudices are.
Q. What does the scene with the clown signify? Also, why is the young girl doing that funny dance? Finally, why did you use a clarinet in the bus scene?
MK: We wanted to show that the robber had a nice home and a nice family, that he was not the poor boy with seven siblings with hardly anything to eat. That's the scene of the clown at a birthday party. As for the funny dance, this is also a reference to the theme of this film. The girl is doing an African dance, not the real one but what she thinks is African. Lastly, the clarinet was also important for us. You can play the clarinet if you have a good education and from a good family. When the robbers meet their victims on the bus, the robbers don't know what the clarinet is. So we wanted to bring out the differences in upbringing and education. If you sit in the first class section of society, these issues do not have to be addressed because they happen in the back seat.
Q. There was an Asian boy among the victims. How are Asians or Japanese viewed in Sweden?
MK: The problem with Sweden is that we are well educated and modern people, but we do not address the issue of racial discrimination. We pretend that there is not a problem and that's why we wanted to do this film. This issue needs to be discussed more in society. But as for Asian people, there is no prejudice against them in Sweden.
Q. What was your purpose in using long shots in many scenes?
MK: I'll recite Ruben's exact words for this. This is one of Ruben's aesthetics which he has used in three of his feature films. He believes that when he does the long shots, the actors have to pull through the entire scene in a single cut. And Ruben gets a lot of energy by limiting himself in that way.