2011.10.23
[Event Reports]
"I wanted to meet the people of Japan!" said Milla Jovovich – Oct. 22, Official Opening film, THE THREE MUSKETEERS: Stage Greeting
Tokyo International Film Festival has selected two films for Opening selection this year. First being the Special Opening Film, 1911, which has been screened, and with Green Carpet event and Opening Ceremony being completed, the second selection, THE THREE MUSKETEERS, the Official Opening Film has made it's screening as well.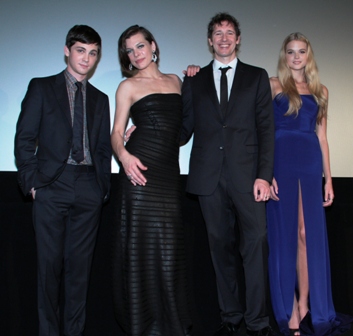 © TIFF2011
Director Paul W.S. Anderson made a Japanese Premiere, Stage Greeting with his wife and also a leading actress, Milla Jovovich, along with the company of Logan Lerman, an actor with a youthful appeal who played the role of D'Artagnan, with Gabriella Wilde who played Constance and Producer Martin Moszkowicz.
The Stage Greeting being the only opportunity for them to appear before the Japanese audience, Milla and the group waved friendly at the fans. "We are so proud that THE THREE MUSKETEERS was chosen as the Official Opening Film. Since we truly enjoyed making this film, we would also like you to enjoy it as well," said Paul . "I believed you would really like this film and looked forward for this day." said Gabriella. Each one of the guests spoke about their joy of being able to be here.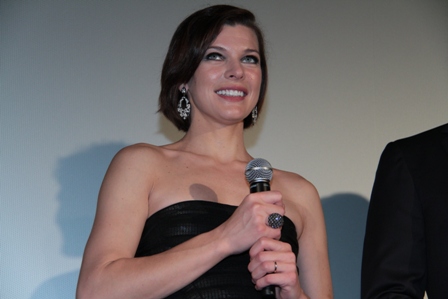 © TIFF2011
"My relationship with Japan has been a long one," mentioned Milla with a smile. "She appealed the film by telling us, "This is a film that both your parents as well as your children can enjoy. The film was made by Paul W.S. Anderson, who's known for shooting horror and action films. This is a first film that I showed my daughter! The leading actress is just wonderful, you know!" Milla who spoke with touch of humor, made the audience laugh.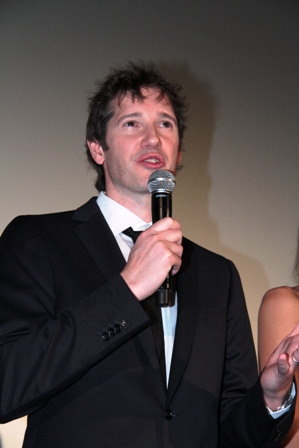 © TIFF2011
Paul said "The film has been gathering the interests of not just the fans but also from the film industry members. That is why I'm feeling anxious." He also said "The first film that my father took me was The Three Musketeers that is why this is very memorable for me. I've committed myself to create this so that a father can show it to his son and a mother can show it to her daughter. This is a very special present from a film geek like me to the film lovers. When Logan was asked which scene in the film left best impression for him, he replied, "All scenes left strong impressions. However, the action scene in the beginning of the film where the three musketeers and I fought the Gardu du Corps was very exciting  and became an unforgettable scene for me. "

THE THREE MUSKETEERS