2011.10.29
[Interviews]
【Official Interview】Japanese Eyes "The Sound of Light"
Japanese Eyes "The Sound of Light" Interviewed with Juichiro Yamasaki (Screenplay/Director)
Director Juichiro Yamasaki arrives for the interview sporting what seems to be his trademark–an insulated red plaid cap with ear warmers, the kind that farmers and other people who work in cold climates wear as a habit. However, as he mentions at one point in the conversation, he "wears two hats," that of the director and that of a farmer. He grows tomatoes in Maniwa, Okayama Prefecture, an agricultural community where his father grew up. It's only fitting, then, that his debut feature, "The Sound of Light," is a movie about the difficulties of dairy farming.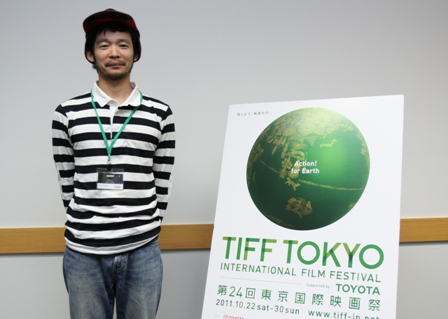 ©2011 TIFF
"I didn't grow up on a farm," he says. "I grew up in Osaka, and went to university in Kyoto, but I used to spend my holidays at my grandparents' farm in Maniwa, which is where the film is set." Yamasaki studied film in university and coordinated the Kyoto International Student Film and Video Festival, but he admits that, in the beginning, his attempts at making movies didn't meet with much success. "My grandmother was living alone at the time," he explains. "So I decided to visit her and started farming."
Consequently, it might be easy to conclude that Yamasaki used his own experience as the basis for the inner conflict that afflicts the main character Yusuke Kariya (Yoshitomo Fujihisa), who has returned to his family's dairy farm after trying to make his name as a musician in Tokyo. Yusuke has come back because his father has injured his leg and is having trouble keeping the farm going. Also, a local veterinarian who is closer to Yusuke's age has been killed in an accident, and Yusuke seems attracted to his widow, Yoko (Eri Mori), who runs a local bar that receives almost no patronage.
Yamasaki denies any connection. "I do farming as well as filmmaking, either of which you would think requires all your attention and energy," he points out. "Some would say a bird in the hand is worth two in the bush, but I have no trouble doing both. Of course, it's wonderful if you can dedicate yourself completely to one pursuit, but it's just as good to try many things."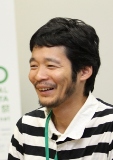 ©2011 TIFF
The specific nature of Yusuke's conflict is slightly different from the conventional city-country narrative direction. In most stories of this type, the young person longs to escape the small town for the big city, but Yusuke has come back without really knowing why, and his father thinks he should return to Tokyo and play music "if that's what you really want to do." If anything, Yusuke's father seems to envy his son for "following his dream."
"Actually, there are a lot of people like Yusuke in the village where my grandmother lived," says Yamasaki. "And a lot of people are moving to the countryside now, especially since the earthquake of March 11. Many of these people are younger and have never lived on a farm before. There are also those, like Yusuke, who left and are now coming back to settle." This information would seem to contradict the belief that Japan's farm communities are hollowing out and what's left is just old people. "Maybe that way of thinking is finally changing," says Yamasaki.
Nevertheless, the mood of the movie is not necessarily hopeful. Life on a dairy farm is expressed as being two parts backbreaking work to one part sheer boredom, even if the only scene that actually depicts difficult work is one where Yusuke delivers a calf under slightly hazardous circumstances.
"While we were shooting at a real dairy farm we were always waiting for a cow to go into labor," Yamasaki explains. "And during that time there were several opportunities, but I wanted to shoot the delivery at night, and the scene we filmed was the only one that happened at night."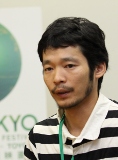 ©2011 TIFF
In dramatic terms, the movie doesn't make farming look that appealing, especially for women. Yusuke's mother left years ago and lives in a neighboring town. Yusuke hasn't seen her since he was a child. At the same time, the wife of Yoshiyuki, Yusuke's uncle, has recently run away, sending Yoshiyuki into a suicidal depression. During a monologue in a deserted restaurant, Yoshiyuki rages against "greed" in general and the price of feed. Suddenly, the world comes rushing in to this little isolated farm town.
"People in Maniwa don't talk about those things," Yamasaki admits, "unless they're a little drunk. It was a special situation." The director doesn't want to play up the sullenness too much. Most of the farmers he knows are satisfied with their lives. "I don't want to exaggerate their emotions," he says. "From day to day, there's not a whole lot of merry-making going on there. I feel we've taken material from these people's lives, so there's no point in making a film that my neighbors couldn't understand or enjoy."
Interviewed by Philip Brasor (Film writer)

The Sound of Light