2011.10.29
[Interviews]
【Official Interview】Japanese Eyes "Between Today and Tomorrow"
Japanese Eyes "Between Today and Tomorrow" Interviewed with Junko Kobayashi (Director)
The title of Junko Kobayashi's documentary about the world-renowned dancer Yasuyuki Shuto forces one to think about the future, an issue of concern to all human beings but one that is especially worrisome for dancers. As artists whose instruments are their whole bodies, dancers' careers are more limited than other artists, and in some ways Shuto is already performing on borrowed time. Though he resists analyzing what he does and is naturally reticent, at one point he reveals that he never expected to be dancing this late in life and can't see how he will still be dancing in the future, though he doesn't specify a time period.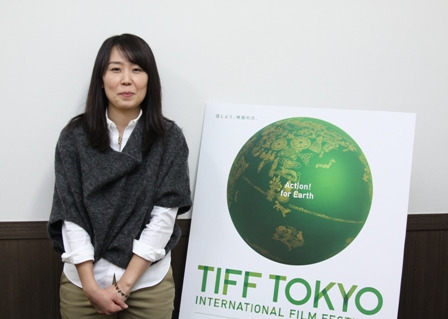 ©2011 TIFF
"In the beginning it was difficult to get close to him," Kobayashi says. "And he maintains a certain distance from people. I'm the kind of filmmaker who likes to get close to my subjects, and maybe that was the wrong approach here, but as we spent more time together I realized that the distance he was trying to maintain, the barrier he put up, was a by-product of his complete focus on dancing. He doesn't see anything else around him. It's not as if he resented me or my presence, and once I realized this it became easier to shoot him."
Kobayashi had never filmed a dancer and, in fact, knew next to nothing about dance before she met Shuto through an acquaintance who invited her to attend rehearsals for "Time Garden," a piece Shuto was putting together for an art museum.
"I planned to make a film just about that performance," Kobayashi explains. "So I was there through all the rehearsals. Later I wanted to film more, and he had two projects after that, which I also filmed. So for a year I followed him, even when he went to Oita, his home town, where he taught a girls ballet class in the school where he started learning ballet." In the film, Shuto teaches a class of elementary school-age girls some of the corps sequences from "The Nutcracker," which is one of the few scenes in the movie that shows him interacting with others in a relaxed way. Even drinking with colleagues, including dance partner Megumi Nakamura, he despairs that people find him standoffish and "angry" when, in fact, he's simply lost in the moment. He's not the kind of dancer who can "think of more than one thing at the same time," he confesses. Dancing doesn't come naturally to him. It's something he has to work at.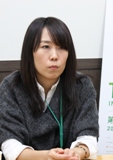 ©2011 TIFF
Kobayashi stresses the word "bukiyo," which Shuto uses to describe himself. It means "awkward," but Shuto isn't being falsely modest for the sake of the camera. "Everyone in the movie says the same thing about him," Kobayashi says. "Shuto-san says that sometimes other dancers move their bodies so differently that it is often difficult for him to overcome those differences. To me his use of the word 'bukiyo' shows his sincerity. As another dancer explained, the fact that Shuto-san thinks he can't do a particular dance piece initially brings out his greater potential." And potential, it should be noted, is something that can only be fulfilled in the future. In a sense, Shuto's longevity as a dancer may have something to do with his constant need to improve himself just so that he can accomplish today's job.
The problem with a subject who is so intent on one thing is that there is usually nothing else. "When I worked on TV documentaries, I always tried to portray my subjects from every angle possible," says Kobayashi. "And I wanted to show a dimension of Shuto-san's personality apart from the one that danced―what he did in his daily life, that sort of thing. Anyone who makes documentaries with individuals as their subjects thinks that way. But in all honesty there was nothing. I discussed this matter with the crew, and none of us could come with any ideas of how to show his life outside of dance, because we could not find any. There's really nothing else." In one sequence, Shuto shows up at an auditorium many hours before the performance to warm up. He says plainly that he has nothing else to do.
Though Shuto has worked with some of the biggest names in both classical and modern ballet―Pina Bausch, Jiri Kylian, Matthew Bourne―the only scene we see of him working in this vein is old footage of him taking direction from the late Maurice Bejart. Kobayashi filmed all the performances in Japan. In addition to the "Time Garden" production, she also presents a manic, somewhat humorous piece by the director Shuji Onodera set to postmodern tango music, as well as a stunningly difficult ensemble piece, complete with puppets, by the Belgian choreographer Sidi Larbi Cherkaoul.
"You have to keep in mind that these projects were all pre-scheduled, so I couldn't interfere and ask them to do things over. It was his work, so all we could do was observe." For that reason she shot two sequences on a sound stage with only Shuto dancing that were exclusive to the film. "Those scenes I had more control over."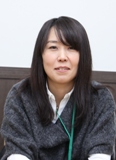 ©2011 TIFF
The director didn't think shooting the dance sequences was particularly difficult, even if she had never done it before. "The main thing I learned during the production of this film is that a superior dancer is someone with great presence," she says. "Their bodies are so flexible that you think their arms and legs will just spread out so far that they won't fit into the frame. Anyone with a good sense of rhythm can keep up with the music, but a true dancer is more than just that."
Interviewed by Philip Brasor (Film writer)

Between Today and Tomorrow