2011.09.02
[Updates]
Brad Pitt's "MONEYBALL" to be Official Closing Film for 24th TIFF
Tokyo International Film Festival (TIFF) announced today that "MONEYBALL" starring Brad Pitt, has been selected as the Official Closing film for the 24th TIFF. The film tells the true story of Oakland Athletics' general manager Billy Beane's successful attempt to put together a baseball club on a budget by employing computer-generated analysis to draft his players.
Official Closing Film
"MONEYBALL"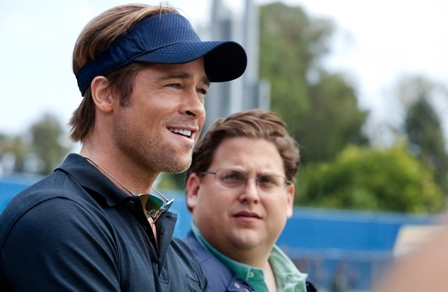 © Columbia TriStar Marketing Group, Inc. All rights reserved.
Director: Bennett Miller
Cast: Brad Pitt, Jonah Hill, Philip Seymour Hoffman, Robin Wright
The film will be released by Sony Pictures Entertainment (Japan) Inc. on November 11, 2011.
Based on a true story, "MONEYBALL" is a movie for anybody who has ever dreamed of taking on the system. Brad Pitt stars as Billy Beane, the general manager of the Oakland Athletics and the guy who assembles the team, who has an epiphany: all of baseball's conventional wisdom is wrong. Forced to reinvent his team on a tight budget, Beane will have to outsmart the richer clubs. From the producers of "The Social Network," a true story starring Brad Pitt.

"MONEYBALL" OFFICIAL SITE(Japanese)

MONEYBALL