2011.09.07
[Event Reports]
Press Conference to celebrate Kyoko Kagawa, recipient of the FIAF Award
A Press Conference to celebrate legendary actress, Kyoko Kagawa's receiving the FIAF(*1) award with a Special Screening of "A Story from Chikamatsu," was held today on September 6, 2011 at The Foreign Correspondents' Club of Japan (FCCJ). The Press Conference opened with congratulatory speeches by Hisashi Okajima (Chief Curator, National Film Center of Japan) and Nobushige Toshima (Secretary-general, Tokyo International Film Festival(TIFF)), and also words of appreciation by Kyoko Kagawa (Actress, recipient of the 2011 FIAF Award).
TIFF also announced today during the 24th TIFF, Kyoko Kagawa will be receiving the FIAF award at a ceremony on October 24 and all nine of the films she starred in, with English subtitles will be screened. "A Story from Chikamatsu" (1954) has been newly printed with new English subtitles; "The King's Move" (1955) will be screened for the first time with subtitles; and the digitally remastered version of "Tokyo Story" (1953) will be receiving its first theater screening.
Notes and Quotes from the Press Conference
Kyoko Kagawa (KK):
It is my honor to be here but at the same time it's overwhelming for me. I did not know much about FIAF, but through Mr. Okajima of the National Film Center, I learned what a film archivist is. Upon knowing about other recipients' names I feel honored but also a little overwhelmed.
Q: Which filmmakers impressed you most?
KK A:One influence that I had was the actress Kinuyo Tanaka. I worked with her in "Okasan." She was very friendly off camera, but in front of the camera, you could not talk to her. Other actresses were Hideko Takamine and Setsuko Hara. I learned a lot from the way they lived their lives and the way they worked.
Q: What is the difference between previous Japanese film making and today's Japanese film making?
KK A:The biggest difference is the studio system. There was Daiei, Toho, Shin-Toho and they supported the filmmakers with much money and time so that they could make masterpieces. But today it seems everyone is an independent filmmaker and there is more freedom for better or for worse. When I worked with the masters, it was intimidating, but now it is more casual. The directors and actors are much closer. And it is a little bit strange for me.
Q: Please let us know about your memories of the three directors, Mizoguchi, Ozu and Kurosawa.
KK A:The most outstanding memory is Mizoguchi. Actually I like "A Story from Chikamatsu" the most. He did not teach how to act on the set but would make us go through test after test. So I learned what acting was in that way. Ozu was quite opposite to Mizoguchi, he was meticulous with the actors. Kurosawa was very much like Mizoguchi. For example in "High and Low", I always had to react to the other actors and that was what Mizoguchi continued to teach me- to "react."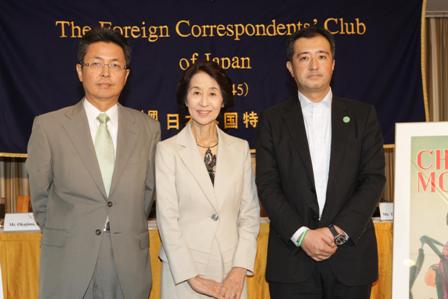 ©2011 TIFF
Profile: Kyoko Kagawa
Born in Ibaraki and raised in Tokyo, Kyoko Kagawa joined Shin-Toho Studio in 1949. After leaving the studio, she started to appear in many films of other studios, including "Okasan" (Mikio Naruse, 1952), "The Tower of Lilies" (Tadashi Imai, 1953), "Tokyo Story"(Ysasujiro Ozu, 1953), "A Story from Chikamatsu" (Chikamatsu Monogatari, Kenji Mizoguchi, 1954), "The Lower Depths" (Akira Kurosawa, 1957), and "Deep River" (Kei Kumai, 1995). In 1990, Kagawa received the Best Supporting Actress award from Kinema Jumpo for "Mt. Aso's Passions" (Kei Kumai), and in 1993, the Japan Movie Critics Award, the Japan Academy's Best Supporting Actress prize, and other prizes for "Madadayo" (Akira Kurosawa).
(*1)Profile: FIAF
FIAF, the International Federation of Film Archives, brings together the world's leading institutions in the field of moving picture history. Its affiliates are defenders of the Twentieth Century's own art form.They are dedicated to the rescue, collection, preservation, and screening of moving images, which are valued both as works of art and culture and as historical documents. When it was founded in 1938, FIAF had 4 members. Today it comprises more than 150 institutions in over 77 countries – a reflection of the extent to which preservation of moving image history has become a world-wide concern.
FIAF Award
The International Federation of Film Archives have bestowed a FIAF Award to a renown personality each year since 2001.The Award celebrates the dedication of contributors to the cause of film preservation around the world. The Award itself is a 1000-foot film can of pure silver. The following are past recipients of the FIAF Award: Martin Scorsese (2001), Manoel de Oliveira (2002), Ingmar Bergman (2003), Mike Leigh (2005), Hou Hsiao-Hsien (2006) and Liv Ullmann (2010).

"Kyoko Kagawa Retrospective" Lineup for the 24th Tokyo International Film Festival

Tokyo Story (Digitally Remastered Version) Director:Yasujiro Ozu (1953)
A story from Chikamatsu Director:Kenji Mizoguchi (1954)
The king's Move Director:Daisuke Ito(1955)
Sudden Rain Director:Mikio Naruse(1956)
Shozo, a cat and two women Director:Shiro Toyoda(1956)
The Lower Depths Director:Akira Kurosawa(1957)
Anzukko Director:Mikio Naruse(1958)
The Scarlet Cloak Director:Satsuo Yamamoto(1958)
Tora-san's Dream of Spring Director:Yoji Yamada(1979)