2011.10.21
[Event Information]
Announcing the Opening Event – Green Carpet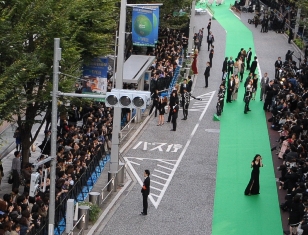 Date and Time: Oct. 22nd (Sat) 2011 13:30 – 16:00(tentative)

Venue: Roppongi Keyakizaka Dori & Roppongi Hills Arena

Viewing: Admission Free
*Keyakizaka Dori is a public road, please follow the directions given by the attendants when you at the viewing area.

Q: Can a guest visit the Green Carpet without a ticket?
A: Yes, guests can view the Green Carpet free of charge.

The viewing is possible at the specified location along the Keyakizaka Dori.
However, the shops along the road are open as usual. Please follow the guidances of the attendants and securities during the viewing.

You will need a numbered ticket or invitation ticket for viewing at the Roppongi Hills Arena.

Making queue ove rthe night to get a viewing spot is forbidden.

On Rainy Weather
Please be forewarned that the Green Carpet walking will be shortened and may take place only at the Roppongi Hills Arena.
The Green Carpet may be called off at times of bad weather.
The details on weather and the Green Carpet will be announced on TIFF's official web site.

Q: Who would be walking on the Green Carpet?
A: The guests who would walk the Green Carpet will be mainly directors, actors and actresses of the films screened at TIFF.
Look forward to who will be walking the Green Carpet on the opening day.

Q: Is there a dress code?
A: There are no dress codes for spectators viewing along the Keyakizaka Dori.

Q: Is Keyakizaka closed to traffic on the day?
A: The road would be closed to traffic on Oct. 22 (Sat) 10:00-21:00.
We apologize and kindly ask for the understanding from those who reside at the neighborhood.