2011.10.22
[Event Reports]
Jackie Chan hits the scene! Shoko Nakagawa and Makiko Esumi admit their passion for Jackie! Oct. 22 (Sat) Special Opening Film 1911:Stage Greeting.
Special Screenings is known to show the most talked about films in the town before its theatrical release. With in this film selection, 1911 marked as one of the films of Special Opening Film that is shown when the Tokyo International Film Festival opened on Oct. 22nd (Sat). 1911 was screened Commemorating the Centennial of Xinhai Revolution as well as 100th Anniversary of Jackie Chan's films.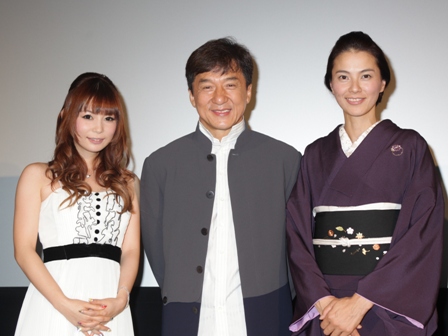 ©2011 TIFF
Actress, Makiko Esumi, who did the voice over of Huang Xing's wife, Xu Zonghan, commented, "I've only met Jackie 45 minutes ago for the first time, but I never thought this would come true…" She was excited and impressed to meet him for the first time.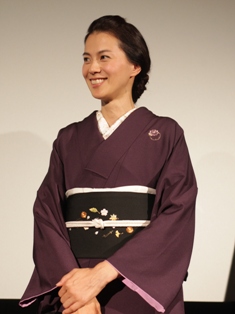 ©2011 TIFF
Moreover, Shoko Nakagawa, who did the voice over of the wife of young activist, Lin Juemin, whom Huang Xing trusted, claims to be Jackie's fan from her heart.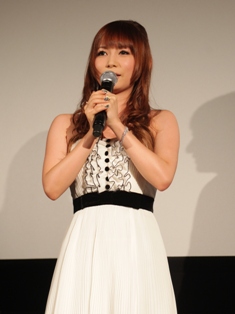 ©2011 TIFF
"I am going back to China today and have a shooting tomorrow from 6 a.m., so Isogashiine (I am busy)" he laughed and said, "You all gave me a lot of energy for a long time. My film making is a long succession of boring and hard work, but I have gotten over it only because you have been looking forward to seeing my films. Thank you very much. " And he closed his speech with a strong message, "You for me, I for you. Thank you."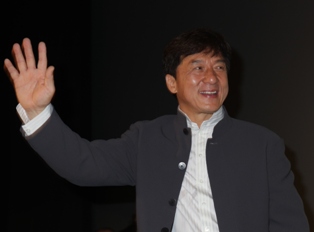 ©2011 TIFF