2011.10.24
[Event Reports]
25 years old director's sensibility bursts out – Oct. 23 (Sun) Japanese Eye No Reply, Q&A session with Director Satoru Hirohara.
Director Satoru Hirohara 's Q & A took place following the screening of No Reply  on Oct. 23 (Sun).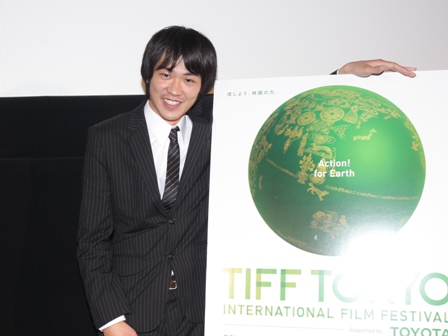 ©2011 TIFF
Q: How did you enjoy watching the film from the audience seat?
Director Satoru Hirohara (hereafter Director) : It is a little embarrassing to say but, I am so full of emotion. I was fortunate to have the screening at the theatre with such a big screen and with such an audible sound system.
Q: Was the film script written with your own romantic experience or was it fiction?
Director: Basically it is fiction, because I don't have that much experience or knowledge. But when I work out the ideas, there are often times when I find the resemblances with myself and feel "This may be about myself." But it is a fiction.
Q: Two leading characters leave an impression, but what was the reason for your choice of casting them?
Director: I had an opportunity to meet Junko Ohta once before the filming. When I saw her photo sent from her agent, I had an intuition that she might have something better than what was shown in the photograph. When I had an opportunity to really meet her, I found out that I was correct and that she was really pushing herself in the photo. But in vice a versa, this gave me a positive feeling about her. There were times when she would show her back to the camera, not so as much as saying "Don't film me please" but she was in fact an introvert. But that uncanny resemblance was why I liked in her. Takahiro Sato had such an interesting facial expression. Although difficult to tell what he was thinking, you can some how tell and it was this mysteriousness which made me ask him to act for me.
Q: The two leading characters were in harmony. Did you devise any ways to film this?
Director: We had no special rehearsals. But I did insist for the sequence of shooting the film. I had a plan in my mind to begin filming from the interior of the house and slowly move step by step to the exterior scenes. We first shot the scenes of waking up in the morning and continued with the scenes in the sequences which followed.
Q: There is a part in your film where the catastrophic earth quake hits Tokyo. Did you shoot the film after the recent  earth quake disaster?
Director: The filming took place last year in November which was before the earth quake. People were saying that the earth quake was going to happen on the television and the mood was strongest at the time. I never imagined that it would happen back then.
Q: I felt that rolling camera for long takes and cutover to close up was very cinematic and comfortable. Did you have a strategic intension in your mind when you filmed it?
Director: Normally I prepare a blocking (cut) list, but since a student of Tokyo University of Fine Arts and Music participated as a cinematographer for this film, I have discussed the filming aspects with him. In a bad side, I could say that the filming was not controlled but on a good side, we've completed the shooting step by step. There were some acting scenes where the direction was difficult to make, but I continued with the filming thinking that it was a saga of the director to rely on the editing staff.
Q: Just when I thought that the final scene came to a conclusion one another scene was inserted and ended the film. What was your intention for inserting that shot?
Director: I didn't give any thoughts on what to do with the ending. One day when I saw what the editor did, I found out how the film had ended.
But I did give a second thought and consulted him asking for his intentions. The ending of the film was there and then it moved on to the next cut, leaving the mood of continuity. I could have ended the film with white but thought it was better to insert this additional scene.
Q: Did you have an intention for not ending the story but leaving the impression behind that the life will still continues even after an episode of the age of adolescence has ended?
Director: It was done randomly. If everything went in order and was calculated exactly the way I wanted, the film would have ended with good feelings. But when you attempt to do that, it doesn't work out. There is just too much ambiguity that you must acknowledge and conclude the film. I believe that this is reflected in the last scene of the film.
Q: Would you let us know your agenda after this?
Director: I am participating in a project called NO NAME FILMS to be screened at Euro Space in Shibuya from Nov. 19th (Sat). The 10 Young directors ' short film are shown at the late night show. You can also watch the films of other talented directors all at once, I hope you would come to see it..I am also going to start shooting a new film from May on next year. If I could complete it by October, it would be great to screen it at Tokyo International film Festival again.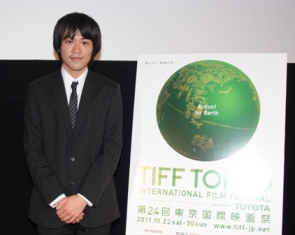 ©2011 TIFF