2011.10.26
[Event Reports]
10/24 Japanese Eyes "Monster Killer" Stage Appearance: Notes & Quotes
Thank you for your interest in the 24th Tokyo International Film Festival. A stage appearance featuring Monster Killer from the Japanese Eyes section was held today as follows:
■ Date & Time
October 24th (Monday), from 13:20 @TOHO Cinemas Roppongi Hills Screen 5
■ Appearance
Yasuaki Kurata (Development/Producer), Takanori Tsujimoto (Director/Screenplay/
Cinematographer), Natsuki Kato (Actress), Yuma Ishigaki (Actor), Koji Nakamura (Actor)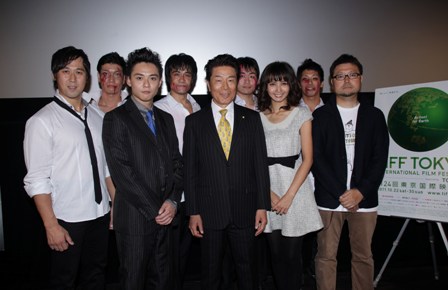 ©2011 TIFF
Here are some notes and quotes:
Yasuaki Kurata : Thank you for joining us today. I hope you enjoy our film, Monster Killer!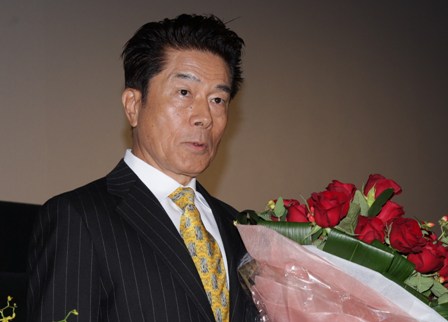 ©2011 TIFF
Takanori Tsujimoto : I am very happy to see such a big turn out! I have always liked action films and so it was great to finally work with Mr. Kurata and of course with Ms. Kato and Mr. Ishigaki. One of the highlights of this movie is the battle between Mr. Kurata and Mr. Nakamura, his disciple.

©2011 TIFF
Natsuki Kato : I acted out the main character, Sayoko. There's a lot of action, there's romance, and at the same time, it's also a suspense movie. I am sure you will all enjoy this film.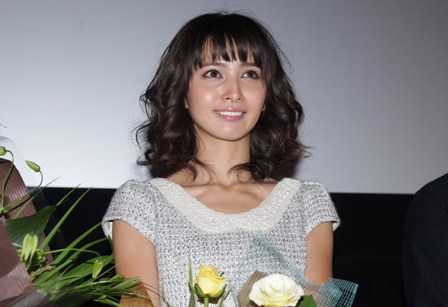 ©2011 TIFF
Yuma Ishigaki : This is my second film with Mr. Tsujimoto. We came to the Tokyo International Film Festival with his film, Kill. Ms. Kato and I worked together in the film, Battle Royale II: Requiem, and this is the first time to work with Mr. Kurata. I have been his fan since I was a child and it is a great honor to work with one of the best action movie stars! This movie is a vampire-horror type of movie and in a sense, a new type of Japanese film.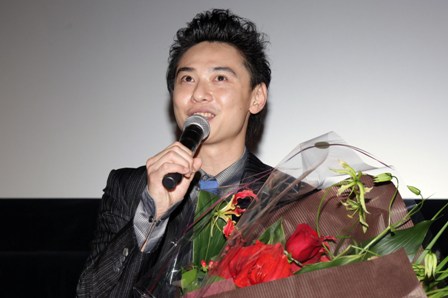 ©2011 TIFF
Koji Nakamura : Most of my scenes are battle scenes with Mr. Kurata. After working with him in those scenes, I was given the opportunity to self-reflect on my own acting and action moves which was very insightful. We hope that this movie will boost action films in Japan.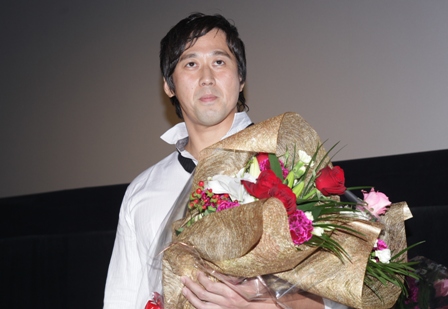 ©2011 TIFF
Q. Mr. Kurata, why did you want to make this type of action film?
Kurata: I have always wanted to do an action film with a woman. In the past, I have worked with Etsuko Shihomi, a well-known action actress in Japan, but I had never made a film with another actress who was developed enough to do action scenes with me. In this respect, Ms. Kato was great with her action and I am sure you will all be amazed by it on screen.
Kato: I've done movies with some action scenes in them such as in Battle Royale II: Requiem which was the last time I had gone through any proper training. But with this movie, physical contact was full on Mr. Kurata did not hold back at all!
Q: How was it doing the romantic scenes in this film?
Ishigaki: I felt a bit shy and awkward doing those scenes with Ms. Kato because we've done many movies together and I know her well. But the romantic scenes were very pure and platonic which I thought was good because there were so many gruesome scenes in this film. In a sense, I was the storyteller so I related to the characters in the story the most, as you'll soon see.
Q: Mr. Kurata being your mentor, what were you able to take from him during the shooting?
Nakamura: Needless to say, Mr. Kurata is an international actor. I always feel as if I could have done better after I finish shooting a scene with him.

Monster Killer