2011.10.27
[Event Reports]
Oct. 25 CINEMA OCTOBER in Roppongi Hills – Tokyo International Film Festival Special Talk Show
CINEMA OCTOBER in Roppongi Hills – Tokyo International Film Festival Special Talk Show was held in TSUTAYA TOKYO ROPPONGI on Oct. 25 (Tue).
The guests of the talk show were Rakugo storyteller Shiraku Tatekawa (Star performer of Tatekawa Ryu and Film Director as well as Film Critic) and, Programming Director of the e Tokyo International Film Festival, Yoshi Yatabe and tNavigator was Rachel Chan (J-WAVE RENDEZ-VOUS Navigator).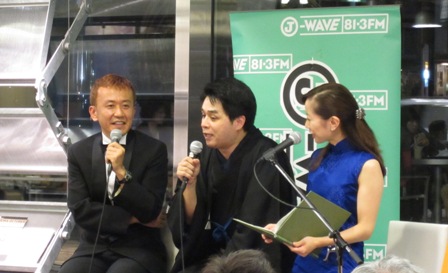 ©2011 TIFF
Rachel prepped the audience agenda of the day and TIFF's PD Yoshi Yatabe made his appearance with film scorec of The Third Man. in the background, followed by Master Shiraku Tatekawa who entered with the Debayashi music.
Shiraku: "When a man wear's a kimono in Tsutaya Video Store that has Starbucks, everybody passes by avoiding you."
Shiraku surely is hilarious getting laughs with great head start.
When Mr. Yatabe commented that he watched 600 films per year, Shiraku replied that he was busy watching old films first and never had a time to see the new ones. Laughs and Talk Show began with two different types of cinéfils.
In Part One of this show, Mr. Yatabe introduces this year's TIFF Competition selections that he recommends
Point of interest (1) TIFF has quality comedy films this year and he will introduce 2 films of his choice starting with When Pigs Have Wings.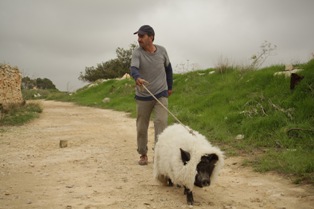 Shiraku: Japanese viewers don't watch European comedy nowadays. When Pigs Have Wings? You won't show it on the Sunday night movies on TV right? Is it just nominated for competition? Or is it really funny?
Director Yatabe: I won't recommend it unless it is really funny. I can say this with confidence.
Mr. Yatabe some how escapes from Shiraku's question that is more like torture. He blushes and tries to make a great effort.
The second recommended comedy selection is Untouchables .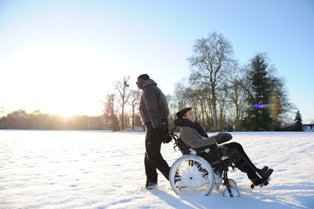 Shiraku: When you take your date to a movie like this one, you usually get into a quarrel.
Mr. Yatabe: The first screening of this film has just ended. Both female and male audiences liked it! I will guarantee the quality!
Point of interest (2) Noteworthy Japanese Films! The Woodsman and the Rain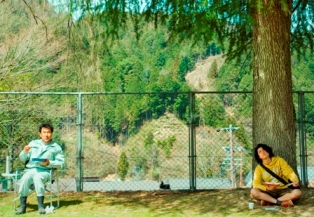 ©2011 Kitsutsuki to Ame Film Partners
Shiraku: There are many Japanese Films that are like extensions of television dramas and are difficult for expert film viewers to make good choices. When you level down the quality of the content and cast the famous actors, it makes it easier for the general audiences to visit the theater and watch the film but on other hand, makes the expert film viewers worry about the choice they made. What about this film?
Mr. Yatabe: Overall scheme of this film is cinematic. The star in the film allures the general audience and the film buffs will like it too.
Point of interest (3): Don't miss out this actress. Introducing 2 recommendation.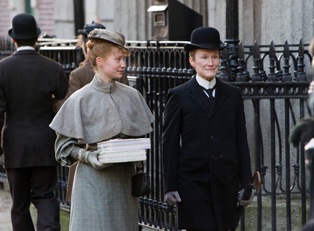 ©Morrison Films / Chrysalis Films 2011
Mr. Yatabe: It is often said to check out the film if the actress in it is good. One noteworthy selection is Albert Nobbs which stars Glenn Close. It's an idea that she's been working for 30 long years. The story takes place in the 19th century Dublin. She cross-dresses as a man to make a living.
Master Shiraku: If the ideas been there for 30 years it usually flops as a film. Is this film alright?
Mr. Yatabe: I'm starting to lose my confidence.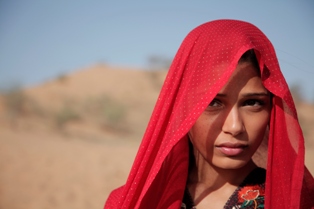 Mr. Yatabe: The film Trishna has a starlet Freida Pinto. She is also stars in the Rise of the Planet of the Apes .She is an actress that is stepping up the staircase to stardom.
Master Shiraku: The real actress will choose this film and not the major film like Rise of the Planet of the Apes. I don't want her to sell her soul to Hollywood.
Mr. Yatabe leaves the show in a hurry to return to the Film Festival to appear on the stage as MC.
The Part two is be Master Shiraku's selection of the Tokyo International Film Festival's silently approved Shiraku Tatekawa's section..
Shiraku introduces the classic films in the shadow that is hardly noticed.
See TSUTAYA TOKYO ROPPONGI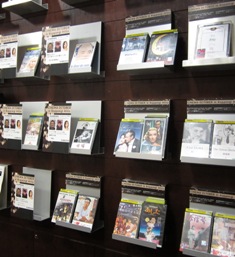 ©2011 TIFF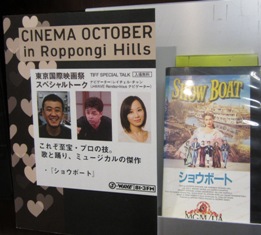 ©2011 TIFF