2011.11.15
[Interviews]
【Official Interview】 Competition "Home"
Competition "Home"

Interview with Muzaffer Özdemir (Director)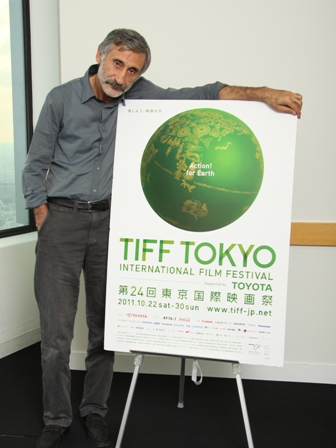 ©2011 TIFF

Journey to the hometown raises the important question, the environmental destruction of his country.

Muzaffer Özdemir won the Best Actor Award at the Cannes International Film Festival in 2002 for "Distant," directed by Nuri Bilge Ceylan. In his directing debut, "HOME," he portrays the central character, himself, and depicts his hometown landscape that has been blemished by the developed modern science technology. The film symbolizes his worries and his opposition to environmental destruction of Turkey.

— You have been building your career as an actor. Did you have an intention to become a creator?

Özdemir: I want to continue to make new films, but I don't like being called a creator. Only God is allowed to be called, the creator. We are merely inventors.

— The protagonist is your alter ego, why did you choose this theme?

Özdemir: When the enormous earthquake struck Kocaeli, Turkey, in 1999, the government excused themselves to avoid responsibilities. At that time, I was writing for a magazine that was involved in activities to protect the green environment and I questioned the authorities with my writing, regarding the downturn my hometown. Almost all buildings were under poor supervision of authorities and remained in bad conditions. It was all due to poor urban planning. Nevertheless, the authorities blamed the earthquake for the disaster. Thus, I stated that the ruling party, such as mayors and ministers, should be responsible for this outcome.
I heard that there were almost 3,000 development plans of rivers during that time in Turkey. I felt that the time of art and film were over and qualified art could not be born in such a time of catastrophe. I waited as I clenched my teeth for almost ten years. Then I concluded that I could make a film for the purpose of protest. The ruling class eventually drove us to feel that our hometown no longer existed. The development project invaded very quiet areas. Therefore, we could have enough of a reason to make this type of film.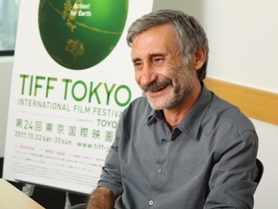 ©2011 TIFF

— Did you have any struggles with the government while producing this film?

Özdemir: There is no censorship in Turkey so we did not struggle with the government. However, when they saw the completed film, I'm sure they didn't have good things to say about me. I was prepared for it. The current Prime Minister, Erdogan, puts emphasis on the democratization. However, he won't deny what was depicted in the film. He didn't consign me to a prison. He looked down on us as harmless activists. I had to be very careful with the script though, since we had to depict the accurate truth.

— Do you often revisit Gümüşhane, the shooting site as well as your hometown?

Özdemir: I went back once or twice a year, during the past 15 years, for activities to conserve mountains, old bridges and buildings.

— Since you are quite familiar with that area, you can decide the most appropriate sites to shoot the film?

Özdemir: I usually walk around there, so I know all the corners. The scene where I shot the rock falling from the mountain was my grandfather's village.

— So you are saying that even those peaceful rural places are targeted for dam and water-power development?

Özdemir: Yes. In addition, Gümüşhane is abundant in natural resources including gold, tin and lead. So even now, the drillings are in progress in numerous spots. There are big-scaled projects, but the worst are the ones using crafting methods for the developments that may cause toxic contamination. Gold originally is valueless, but that value has been evaluated through economic development and capitalism. Nowadays, gold is mined in bulk on a large scale. It is against nature and a sin. Commercializing the material, by adding value, causes people to mine unnecessary resources.

— What elements were you paying close attention to, while you directed?

Özdemir: I tried to depict the methods utilized by Director Yasujiro Ozu. I watched many of his films, but I still feel like I watched only one film. That's kind of similar to my films (laugh).

— You mentioned Director Akira Kurosawa in your director's message written in the official TIFF catalogue…

Özdemir: Director Kurosawa is my pioneer. I am very fond of him. "Dreams" was kind of like his last word before death. It is the most important film for me.

— Did you get any advice from Director Ceylan, who's work you appeared in three times?

Özdemir: When I developed the project, he gave me lots of advises. Since he an outsider for the film, he was able to give us genuine comments. He helped find words that sounded more like me, since the main character was portraying me. Some of his advises were included in the film. He is originally a photographer and he was exposed to the world of film much later than I. So in that sense, we can support each other.

— Ever since you won the Best Actor Award at the Cannes International Film Festival for your role in "Distant," directed by Ceylan, it seems as though you have not acted much besides "Siyah Beyas" (2010)…

Özdemir: I couldn't find a suitable script in Turkey. In addition, I don't want to work in other countries due the language barrier. I don't plan to act in my future films either.

©2011 TIFF

— But aren't people around you wanting to see you as an actor again?

Özdemir: Expectation of others is not my problem.

-What is your intake on holding your world premiered at TIFF?

Özdemir: It was a beyond my expectation and I am greatly honored by this opportunity. After submitting my film (to Tokyo), I was very pleased to learn that the theme of TIFF is "Ecology". I am extremely pleased that my film was chosen and I feel that my participation to the festival has made it complete. Honestly speaking, there are two types of festivals, those that are sincere and those that are not. With that said, TIFF is very important to us.

Interviewed by Gen Suzuki (Film Journalist)