2011.11.15
[Interviews]
【Official Interview】 Competition "J.A.C.E."
Competition "J.A.C.E."

Interview with Menelaos Karamaghiolis (Director) and Alban Ukaj (Actor)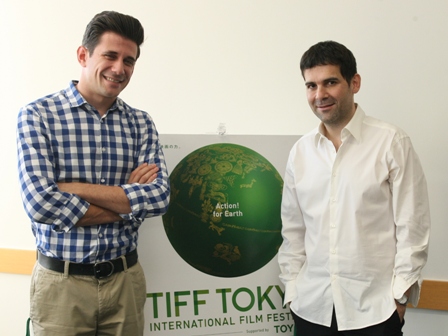 ©2011 TIFF

"J.A.C.E." is an epic story about a Greek-Albanian orphan who finds his ways of life, while struggling to break free from gangs. This is Menelaos Karamaghiolis' first film in 13 years, and is co-produced with five countries, including Portugal and the Netherlands. It is an entertainment film that deals with child trafficking and organ trade, which are still ongoing issues in the Balkans, and it stars Alban Ukaj, born in Kosovo, as the lead role.

Although "J.A.C.E." is the first film since Karamaghiolis won the New Film Director Award at the Thessaloniki International Film Festival in 1998, he had been working on the story ever since he completed the previous film.

"It first started when I befriended an Albanian child named Odysseus, who lived in my apartment," Karamaghiolis said. "It took a long time to complete this film since this was a big budget film compared to average Greek films, and the fact that this became an multinational co-production project."

The protagonist, Jace, witnesses his foster parents being murdered, and falls in the hands of ruthless gangsters. Nevertheless, he desperately tries to protect himself, and in the end, successfully escapes. Were there any production difficulties as it deals with serious social issues such as human trafficking and organ trade?

"The crime rate in Greece is very low, but gang issues in the Balkans still exist," Karamaghiolis answered. "They are worldwide organizations and unfortunately, child trafficking still continues. However, I did not have difficulties shooting this film, as Greece is open to free speech. This film is also supported by the National Film Center in Greece. Greek was a wealthy country until recently."

The character, Jace, is played by three different actors, during his time of infancy, childhood and adolescence. The casting auditions were held in nine countries and Alban Ukaj, who played the adolescent Jace, was finally selected as the last casting call in Sarajevo. He is young and the director did not screen any of his previous films, but the director made his decision when he met him.

"The casting process was extremely difficult, but Alban was my ideal actor," Karamaghiolis said. "He has many ways of expression. I was convinced after watching him for one scene. The fact that I didn't screen his previous films was not any of my concern. It was more important to test him on how much he could offer during his performance. It must have been a big challenge for him, acting in Greek when Greek is not his first language. Nevertheless, he managed to find his own way to communicate."

Ukaj is from Pristina, a capital city of Kosovo. But he favors Sarajevo, where he was invited to a film festival, after his home country entered a post-conflict phase. Since then, he has been working as an actor based there.

"It marked the end of the Kosovo Conflict in 1999 with the NATO bombing," Ukaj said. "At that time, I was a freshman at an acting school in Pristina, and was excited to know that we finally achieved our freedom. Nevertheless, the society did not change as dramatically as I had expected and the excitement quickly faded. In 2001, I was invited to the Sarajevo Film Festival as a guest and wanted to live there. Then, I attending an acting school and continued my studies. Now that I have been invited to Tokyo, I might settle down in Tokyo this time (Laugh)."

Although Ukaj had built his career by appearing in some feature films, as well as short films, this is his first time joining in on such a big multi-national project involving five countries. On top of that, he had to cover two child roles.

"When the new role was offered, it was important to find myself in that role," Ukaj said. "In that sense, I believe it helped to have rehearsals with both of the child actors simultaneously. Especially, Soma Badekas who played the infant stage of Jace, is the best contributor to this film. I watched his performance carefully during the shoot to imitate some of his acting. I got a lot from him."

Furthermore, Jace has very few lines as he keeps his father's "last word," "Do not say too much." Thus, you were requested to perform mainly with your facial expressions. Did you have any difficulties with that?

Alban Ukaj: I first thought, a role with no lines? This will be a piece of cake. I don't have to learn Greek either. But my role required me to understand what the counterpart was saying to react to that without a line. If I have lines, all I would have to do is memorize them all. But understanding what they say means I have to understand the words including the accents. So it was more difficult.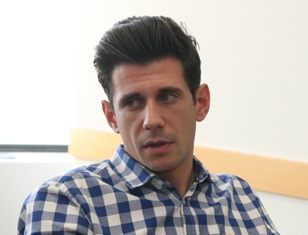 ©2011 TIFF

Karamaghiolis: He has great hearing. I fully understood all of the expressions and words in a form of a sentence. Many people say that Jace is silent man, but that is wrong. Alban's performance is apparent that he keeps his distance from others, understands his surroundings and then makes his actions. I think he learned a good amount of Greek too. When I was drinking at the bar yesterday, I spoke to him in Greek, when I rarely do to him, but he seems to understand a good amount.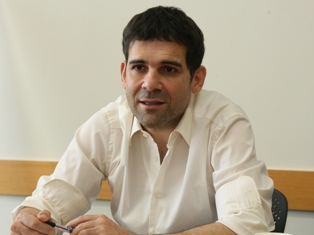 ©2011 TIFF

Ukaj gets excited after winning an endorsement from the director. Furthermore, starring in "J.A.C.E." and joining the Tokyo International Film Festival competition must have boosted his confidence.

Ukaj said, "It was my first experience to play the main character in a feature film. It gave me opportunities to learn how to behave in front of a camera. Additionally, Jace was a very special and unique role to play. I hope that screening at a big stage at Tokyo International Film Festival would give me a new start in my career."

Director Karamaghiolis also appears to have received a solid response at the world premiere screening in Tokyo. He did not win the award, but he turned around with a pleased look on his face.

It is a great honor during the Q&A to see that the audience really understood and enjoyed this film. I really appreciate it. I hope my film reached the souls of the audience in some way. I am very pleased too see how my work effected the people in Tokyo where both language and culture differ. I learned through Tokyo International Film Festival that films are truly an international language, and that it is capable of tying people together. In a way, globalization affects not only consumption, commodities, enterprises and business, but also culture. I think this film managed to show one of the positive elements of it."

Interviewed by Gen Suzuki (Film Journalist)