2011.09.21
[Event Reports]
24th TIFF, Press Conference Report
A press conference of 24th Tokyo International Film Festival (TIFF) was held today, on September 21 (Wed) at Roppongi Hills, Tokyo. The press conference started with welcome addresses by Hideyuki Takai (President, UNIJAPAN) and Tom Yoda (Chairman, 24th TIFF), and explanation of TIFF ARIGATO PROJECT(*1) by Nobushige Toshima (Secretary, 24th TIFF). Special guests, the director Shuichi Okita and the actor Koji Yakusho, also attended.
(*1) TIFF ARIGATO PROJECT
TIFF is organizing the following efforts under the "TIFF ARIGATO Project" at  24th TIFF to contribute to the restoration and recovery of Japan: TIFF ARIGATO Donations, TIFF ARIGATO Message, TIFF ARIGATO Wristband, TIFF in Sendai Special Presentation: Overcoming the Disaster.
 
Today, we announced the line-up of the Competition Section and this year's Jury President, Edward R. Pressman (film producer). Representing all films in the Competition Section, Shuichi Okita who directed The Woodsman and the Rain and Koji Yakusho who played the leading role in the film came up on stage, and told their enthusiasm for TIFF and some stories of the shooting.
A total of 975 titles from 76 countries and regions were submitted to TIFF this year. Besides 15 films in the Competition Section, around 200 films will be screened during the Film Festival. 24th TIFF will be held from October 22 to 30, 2011 at Roppongi Hills and other venues in Tokyo.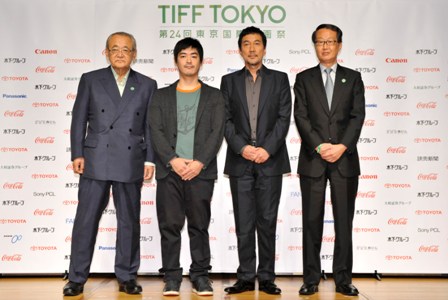 From left: Tom Yoda (Chairman, TIFF), Shuichi Okita, Koji Yakusho, and Hideyuki Takai (President, UNIJAPAN)
Tom Yoda, Chairman of 24th TIFF
This year's TIFF would be held owing to the support from sponsors as well as support from many people. Under the slogan "Believe! The power of films", we want to encourage the people in devastated area in Tohoku by the power of films. We also strengthen and focus on sending out information. Particularly to the young people and to the overseas, we would use facebook and twitter to transmit our information. Green Carpet will be continued and we would use green electricity and green equipment to be more green. A total of 975 titles from 76 countries and regions were submitted to TIFF this year. The film selected as the Official Opening is The Three Musketeers, the Special Opening is 1911 and the Official Closing is MONEY BALL. Opening and Closing films have always achieved excellent performances at the box-office, so please come and see them!
Guest Speakers from the film The woodsman and the Rain (Competition Section)
Koji Yakusho, Actor
Q: How did you find working with Mr. Okita? What was the impression of working together with him?
A: I watched Mr. Okita's previous work, Chef Of The South Polar, and I really thought that Mr. Okita is the director that I want to really work with. When I met him for the very first time, he was like the student in the sense, and I was so surprised at his youth. He has a character as you see in front of you, but when we were shooting the film, he created the atmosphere which everyone wanted provide the support to create something that Mr. Okita wants to create. He has such a power.
(Shuichi Okita, Director )
I don't think I have such a power. I just try to do my best. I am, as you can see, the person that people wants to help because I may not be seen assertive.
Shuichi Okita, Director
Q: Shun Oguri plays a film director's role in the film, is your experience reflected in this film character?
A: When we were planning the movie it wasn't like that to begin with. The movie was coming to a village and I was thinking what type of director was interesting. 25 year old, like a student and in the sense it's like me. And I thought this is quite interesting, so from there I started to write the script and gradually it became like me. And during the filming, Mr. Oguri was like a mirror, when I was actually talking to the actors and the actors were talking if they were taking in a movie. It was an interesting experience.